{"id":6645094842545,"title":"Pastry cutter tool ( 3 patterns )","handle":"pastry-cutter-tool-3-patterns","description":"\u003ch2 class=\"tw-data-text tw-text-large tw-ta\" data-placeholder=\"翻译\" id=\"tw-target-text\" dir=\"ltr\" style=\"text-align: center;\"\u003e\u003cstrong\u003e\u003cspan lang=\"en\" style=\"color: #ea9999;\" tabindex=\"0\"\u003eThe brilliant dough cutter\u003c\/span\u003e\u003c\/strong\u003e\u003c\/h2\u003e\n\u003cp style=\"text-align: center;\"\u003e\u003cstrong\u003e\u003cspan lang=\"en\" style=\"color: #9fc5e8;\" tabindex=\"0\"\u003eEasy for using to have specific shapes\u003c\/span\u003e\u003c\/strong\u003e\u003c\/p\u003e\n\u003cp style=\"text-align: center;\"\u003e \u003c\/p\u003e\n\u003cdiv class=\"tw-data-text tw-text-large tw-ta\" data-placeholder=\"翻译\" id=\"tw-target-text\" dir=\"ltr\"\u003e\u003cspan lang=\"en\" tabindex=\"0\"\u003eAutumn time is biscuit time! \u003cspan\u003e🍪 \u003c\/span\u003eBut you want to have your biscuits quickly on the cookie cutter and not stand in the kitchen forever? Pastry cutter tool - the brilliant dough cutter is perfect for you! \u003cspan\u003e😍\u003c\/span\u003e\u003c\/span\u003e\u003c\/div\u003e\n\u003cdiv class=\"tw-data-text tw-text-large tw-ta\" data-placeholder=\"翻译\" dir=\"ltr\"\u003e\u003cspan lang=\"en\" tabindex=\"0\"\u003e\u003cimg src=\"\/\/cdn.shopify.com\/s\/files\/1\/0262\/2658\/9775\/files\/Flinki02_large_46f1788d-ec40-4df5-8667-6be704704fab_large.gif?v=1571389269\" alt=\"\" width=\"210\" height=\"210\" style=\"display: block; margin-left: auto; margin-right: auto;\"\u003e\u003c\/span\u003e\u003c\/div\u003e\n\u003ch3 class=\"tw-data-text tw-text-large tw-ta\" data-placeholder=\"翻译\" dir=\"ltr\"\u003e\u003cspan lang=\"en\" style=\"color: #ff9900;\" tabindex=\"0\"\u003eHighlights:\u003c\/span\u003e\u003c\/h3\u003e\n\u003cdiv class=\"tw-data-text tw-text-large tw-ta\" data-placeholder=\"翻译\" dir=\"ltr\"\u003e\n\u003cul\u003e\n\u003cli\u003e\n\u003cp class=\"tw-data-text tw-text-large tw-ta\" data-placeholder=\"翻译\" id=\"tw-target-text\" dir=\"ltr\"\u003e\u003cspan lang=\"en\" tabindex=\"0\"\u003esave you time and work when baking ⏱\u003c\/span\u003e\u003c\/p\u003e\n\u003c\/li\u003e\n\u003c\/ul\u003e\n\u003cp class=\"tw-data-text tw-text-large tw-ta\" data-placeholder=\"翻译\" dir=\"ltr\" style=\"padding-left: 30px;\"\u003e\u003cspan lang=\"en\" tabindex=\"0\"\u003eBiscuit cutlets have never been so fast and easy! This tool\u003c\/span\u003e creates within \u003cspan lang=\"en\" tabindex=\"0\"\u003eseconds the cutting out of several biscuits at the same time and thus beats the usual cookie cutter by far.\u003c\/span\u003e\u003c\/p\u003e\n\u003cul\u003e\n\u003cli\u003e\n\u003cp\u003e\u003cspan\u003eEspecially in the Christmas season 🎅\u003c\/span\u003e\u003c\/p\u003e\n\u003c\/li\u003e\n\u003c\/ul\u003e\n\u003cp class=\"tw-data-text tw-text-large tw-ta\" data-placeholder=\"翻译\" dir=\"ltr\" style=\"padding-left: 30px;\"\u003e\u003cspan\u003eIt's a period that we often bake really large quantities \u003c\/span\u003e\u003cspan lang=\"en\" tabindex=\"0\"\u003eof biscuits - this tool \u003c\/span\u003e\u003cspan lang=\"en\" tabindex=\"0\"\u003ebrings an incredible labor savings and \u003c\/span\u003e\u003cspan lang=\"en\" tabindex=\"0\"\u003edelivers consistently beautiful results.\u003c\/span\u003e\u003c\/p\u003e\n\u003cul\u003e\n\u003cli\u003e\n\u003cp class=\"tw-data-text tw-text-large tw-ta\" data-placeholder=\"翻译\" id=\"tw-target-text\" dir=\"ltr\"\u003e\u003cspan lang=\"en\" tabindex=\"0\"\u003eperfectly consistent results\u003c\/span\u003e\u003c\/p\u003e\n\u003c\/li\u003e\n\u003cli\u003e\n\u003cp class=\"tw-data-text tw-text-large tw-ta\" data-placeholder=\"翻译\" id=\"tw-target-text\" dir=\"ltr\"\u003e\u003cspan lang=\"en\" tabindex=\"0\"\u003e\u003c\/span\u003eergonomic design (non-slip nubs)\u003c\/p\u003e\n\u003c\/li\u003e\n\u003cli\u003e\n\u003cp\u003ehigh quality (100% food safe)\u003c\/p\u003e\n\u003c\/li\u003e\n\u003c\/ul\u003e\n\u003ch3\u003e\u003cspan style=\"color: #ff9900;\"\u003eHow it works:\u003c\/span\u003e\u003c\/h3\u003e\n\u003col\u003e\n\u003cli\u003e\n\u003cp class=\"tw-data-text tw-text-large tw-ta\" data-placeholder=\"翻译\" id=\"tw-target-text\" dir=\"ltr\"\u003e\u003cspan lang=\"en\" tabindex=\"0\"\u003eroll out dough\u003c\/span\u003e\u003c\/p\u003e\n\u003c\/li\u003e\n\u003cli\u003e\n\u003cp class=\"tw-data-text tw-text-large tw-ta\" data-placeholder=\"翻译\" id=\"tw-target-text\" dir=\"ltr\"\u003e\u003cspan lang=\"en\" tabindex=\"0\"\u003eWith a hand movement, cut out several biscuits at the same time by rolling over the dough\u003c\/span\u003e\u003c\/p\u003e\n\u003c\/li\u003e\n\u003cli\u003e\u003cspan lang=\"en\" tabindex=\"0\"\u003e\u003cspan\u003eRemove remaining dough without sticking\u003c\/span\u003e\u003c\/span\u003e\u003c\/li\u003e\n\u003c\/ol\u003e\n\u003cimg src=\"https:\/\/cdn1.pamura.com\/files\/Flinki03_large.gif?v=1569919956\" width=\"241\" height=\"241\" style=\"display: block; margin-left: auto; margin-right: auto;\"\u003e\n\u003c\/div\u003e\n\u003ch3 class=\"tw-data-text tw-text-large tw-ta\" data-placeholder=\"翻译\" dir=\"ltr\"\u003e\u003c\/h3\u003e\n\u003ch3 class=\"tw-data-text tw-text-large tw-ta\" data-placeholder=\"翻译\" dir=\"ltr\"\u003e\u003cstrong\u003e\u003cspan style=\"color: #ff9900;\"\u003e\u003c\/span\u003e\u003c\/strong\u003e\u003c\/h3\u003e\n\u003cstrong\u003e\u003cspan style=\"color: #ff9900;\"\u003e\u003c\/span\u003e\u003c\/strong\u003e\u003cstrong\u003e\u003cspan style=\"color: #ff9900;\"\u003e\u003c\/span\u003e\u003c\/strong\u003e\n\u003ch3\u003e\u003cspan style=\"color: #ff9900;\"\u003eSpecifications:\u003c\/span\u003e\u003c\/h3\u003e\n\u003cul\u003e\n\u003cli\u003e\n\u003cp\u003e\u003cstrong\u003e\u003cspan style=\"color: #76a5af;\"\u003eSize\u003c\/span\u003e\u003c\/strong\u003e: circle 17 x 8,5 x 4 cm, big square 16 x 7,5 cm, small square 13,5 x 5,5 cm\u003c\/p\u003e\n\u003c\/li\u003e\n\u003cli\u003e\n\u003cp\u003e\u003cspan style=\"color: #000000;\"\u003e\u003cspan style=\"color: #76a5af;\"\u003e\u003cstrong\u003e\u003cspan style=\"vertical-align: inherit;\"\u003e\u003cspan style=\"vertical-align: inherit;\"\u003e\u003cspan style=\"vertical-align: inherit;\"\u003e\u003cspan style=\"vertical-align: inherit;\"\u003e\u003cspan style=\"vertical-align: inherit;\"\u003e\u003cspan style=\"vertical-align: inherit;\"\u003e\u003cspan style=\"vertical-align: inherit;\"\u003e\u003cspan style=\"vertical-align: inherit;\"\u003eColor\u003c\/span\u003e\u003c\/span\u003e\u003c\/span\u003e\u003c\/span\u003e\u003c\/span\u003e\u003c\/span\u003e\u003c\/span\u003e\u003c\/span\u003e\u003c\/strong\u003e\u003c\/span\u003e\u003cspan style=\"vertical-align: inherit;\"\u003e\u003cspan style=\"vertical-align: inherit;\"\u003e\u003cspan style=\"vertical-align: inherit;\"\u003e\u003cspan style=\"vertical-align: inherit;\"\u003e\u003cspan style=\"vertical-align: inherit;\"\u003e\u003cspan style=\"vertical-align: inherit;\"\u003e\u003cspan style=\"vertical-align: inherit;\"\u003e\u003cspan style=\"vertical-align: inherit;\"\u003e:\u003c\/span\u003e\u003c\/span\u003e\u003c\/span\u003e\u003c\/span\u003e\u003c\/span\u003e\u003c\/span\u003e\u003c\/span\u003e\u003c\/span\u003e\u003c\/span\u003e\u003cspan style=\"vertical-align: inherit; color: #000000;\"\u003e\u003cspan style=\"vertical-align: inherit;\"\u003e\u003cspan style=\"vertical-align: inherit;\"\u003e\u003cspan style=\"vertical-align: inherit;\"\u003e\u003cspan style=\"vertical-align: inherit;\"\u003e\u003cspan style=\"vertical-align: inherit;\"\u003e\u003cspan style=\"vertical-align: inherit;\"\u003e\u003cspan style=\"vertical-align: inherit;\"\u003ewhite\u003c\/span\u003e\u003c\/span\u003e\u003c\/span\u003e\u003c\/span\u003e\u003c\/span\u003e\u003c\/span\u003e\u003c\/span\u003e\u003c\/span\u003e\u003c\/p\u003e\n\u003c\/li\u003e\n\u003c\/ul\u003e\n\u003ch3\u003e\u003cspan style=\"color: #ff9900;\"\u003e\u003cstrong\u003e\u003cspan style=\"vertical-align: inherit;\"\u003e\u003cspan style=\"vertical-align: inherit;\"\u003e\u003cspan style=\"vertical-align: inherit;\"\u003e\u003cspan style=\"vertical-align: inherit;\"\u003e\u003cspan style=\"vertical-align: inherit;\"\u003e\u003cspan style=\"vertical-align: inherit;\"\u003e\u003cspan style=\"vertical-align: inherit;\"\u003e\u003cspan style=\"vertical-align: inherit;\"\u003e\u003cspan\u003ePackage Includes:\u003c\/span\u003e\u003c\/span\u003e\u003c\/span\u003e\u003c\/span\u003e\u003c\/span\u003e\u003c\/span\u003e\u003c\/span\u003e\u003c\/span\u003e\u003c\/span\u003e\u003c\/strong\u003e\u003c\/span\u003e\u003c\/h3\u003e\n\u003cul\u003e\n\u003cli\u003e\n\u003cp\u003e\u003cspan style=\"vertical-align: inherit;\"\u003e\u003cspan style=\"vertical-align: inherit;\"\u003e\u003cspan style=\"vertical-align: inherit;\"\u003e\u003cspan style=\"vertical-align: inherit;\"\u003e\u003cspan style=\"vertical-align: inherit;\"\u003e\u003cspan style=\"vertical-align: inherit;\"\u003e\u003cspan style=\"vertical-align: inherit;\"\u003e\u003cspan style=\"vertical-align: inherit;\"\u003e3 * Pastry cutter tools (1 round shape, 1 big square shape,1 small square shape)\u003c\/span\u003e\u003c\/span\u003e\u003c\/span\u003e\u003c\/span\u003e\u003c\/span\u003e\u003c\/span\u003e\u003c\/span\u003e\u003c\/span\u003e\u003c\/p\u003e\n\u003c\/li\u003e\n\u003c\/ul\u003e\n\u003cp\u003e \u003c\/p\u003e\n\u003cdiv id=\"sbi_camera_button\" style=\"width: 29px !important; height: 27px !important; top: 351.5px !important; left: 405px !important; display: none !important;\"\u003e\u003c\/div\u003e","published_at":"2021-04-08T05:45:11-10:00","created_at":"2021-04-08T05:45:16-10:00","vendor":"Wichoos","type":"Kitchen","tags":["kitchen"],"price":2079,"price_min":2079,"price_max":2079,"available":true,"price_varies":false,"compare_at_price":0,"compare_at_price_min":0,"compare_at_price_max":0,"compare_at_price_varies":false,"variants":[{"id":39582488658097,"title":"Default Title","option1":"Default Title","option2":null,"option3":null,"sku":"DIYHB001","requires_shipping":true,"taxable":false,"featured_image":null,"available":true,"name":"Pastry cutter tool ( 3 patterns )","public_title":null,"options":["Default Title"],"price":2079,"weight":0,"compare_at_price":0,"inventory_management":null,"barcode":null,"requires_selling_plan":false,"selling_plan_allocations":[]}],"images":["\/\/www.rowgins.com\/cdn\/shop\/products\/378000C8-B0B5-4681-BB73-DF2EAC60BB5C.png?v=1617896716","\/\/www.rowgins.com\/cdn\/shop\/products\/super_1024x1024_1400x_7616b902-c854-4470-a6d6-646faab762af.jpg?v=1617896716","\/\/www.rowgins.com\/cdn\/shop\/products\/6_1400x_1cce976e-c265-4069-b55f-98bd42183070.jpg?v=1617896716","\/\/www.rowgins.com\/cdn\/shop\/products\/9_1400x_700e666a-93ad-466f-a049-d62c39105168.jpg?v=1617896716","\/\/www.rowgins.com\/cdn\/shop\/products\/10_1400x_938f9f50-f660-4f76-bfd5-17efdb1d47b3.jpg?v=1617896716","\/\/www.rowgins.com\/cdn\/shop\/products\/3_Decoupoirs_patisserie_professionnels_2_1024x1024_1400x_6e85332c-9410-4366-88c0-6046d5d04ffe.jpg?v=1617896716","\/\/www.rowgins.com\/cdn\/shop\/products\/8_1400x_c5a166db-5e78-496e-93a4-8700328861a6.jpg?v=1617896716","\/\/www.rowgins.com\/cdn\/shop\/products\/2_1400x_381ad200-5871-4796-adbf-43ecf2ab370c.jpg?v=1617896716"],"featured_image":"\/\/www.rowgins.com\/cdn\/shop\/products\/378000C8-B0B5-4681-BB73-DF2EAC60BB5C.png?v=1617896716","options":["Title"],"media":[{"alt":null,"id":20681083158705,"position":1,"preview_image":{"aspect_ratio":1.0,"height":480,"width":480,"src":"\/\/www.rowgins.com\/cdn\/shop\/products\/378000C8-B0B5-4681-BB73-DF2EAC60BB5C.png?v=1617896716"},"aspect_ratio":1.0,"height":480,"media_type":"image","src":"\/\/www.rowgins.com\/cdn\/shop\/products\/378000C8-B0B5-4681-BB73-DF2EAC60BB5C.png?v=1617896716","width":480},{"alt":null,"id":20681083191473,"position":2,"preview_image":{"aspect_ratio":1.0,"height":600,"width":600,"src":"\/\/www.rowgins.com\/cdn\/shop\/products\/super_1024x1024_1400x_7616b902-c854-4470-a6d6-646faab762af.jpg?v=1617896716"},"aspect_ratio":1.0,"height":600,"media_type":"image","src":"\/\/www.rowgins.com\/cdn\/shop\/products\/super_1024x1024_1400x_7616b902-c854-4470-a6d6-646faab762af.jpg?v=1617896716","width":600},{"alt":null,"id":20681083224241,"position":3,"preview_image":{"aspect_ratio":1.0,"height":1000,"width":1000,"src":"\/\/www.rowgins.com\/cdn\/shop\/products\/6_1400x_1cce976e-c265-4069-b55f-98bd42183070.jpg?v=1617896716"},"aspect_ratio":1.0,"height":1000,"media_type":"image","src":"\/\/www.rowgins.com\/cdn\/shop\/products\/6_1400x_1cce976e-c265-4069-b55f-98bd42183070.jpg?v=1617896716","width":1000},{"alt":null,"id":20681083257009,"position":4,"preview_image":{"aspect_ratio":1.0,"height":1000,"width":1000,"src":"\/\/www.rowgins.com\/cdn\/shop\/products\/9_1400x_700e666a-93ad-466f-a049-d62c39105168.jpg?v=1617896716"},"aspect_ratio":1.0,"height":1000,"media_type":"image","src":"\/\/www.rowgins.com\/cdn\/shop\/products\/9_1400x_700e666a-93ad-466f-a049-d62c39105168.jpg?v=1617896716","width":1000},{"alt":null,"id":20681083289777,"position":5,"preview_image":{"aspect_ratio":1.0,"height":1000,"width":1000,"src":"\/\/www.rowgins.com\/cdn\/shop\/products\/10_1400x_938f9f50-f660-4f76-bfd5-17efdb1d47b3.jpg?v=1617896716"},"aspect_ratio":1.0,"height":1000,"media_type":"image","src":"\/\/www.rowgins.com\/cdn\/shop\/products\/10_1400x_938f9f50-f660-4f76-bfd5-17efdb1d47b3.jpg?v=1617896716","width":1000},{"alt":null,"id":20681083322545,"position":6,"preview_image":{"aspect_ratio":1.0,"height":500,"width":500,"src":"\/\/www.rowgins.com\/cdn\/shop\/products\/3_Decoupoirs_patisserie_professionnels_2_1024x1024_1400x_6e85332c-9410-4366-88c0-6046d5d04ffe.jpg?v=1617896716"},"aspect_ratio":1.0,"height":500,"media_type":"image","src":"\/\/www.rowgins.com\/cdn\/shop\/products\/3_Decoupoirs_patisserie_professionnels_2_1024x1024_1400x_6e85332c-9410-4366-88c0-6046d5d04ffe.jpg?v=1617896716","width":500},{"alt":null,"id":20681083355313,"position":7,"preview_image":{"aspect_ratio":1.0,"height":1000,"width":1000,"src":"\/\/www.rowgins.com\/cdn\/shop\/products\/8_1400x_c5a166db-5e78-496e-93a4-8700328861a6.jpg?v=1617896716"},"aspect_ratio":1.0,"height":1000,"media_type":"image","src":"\/\/www.rowgins.com\/cdn\/shop\/products\/8_1400x_c5a166db-5e78-496e-93a4-8700328861a6.jpg?v=1617896716","width":1000},{"alt":null,"id":20681083388081,"position":8,"preview_image":{"aspect_ratio":1.0,"height":1000,"width":1000,"src":"\/\/www.rowgins.com\/cdn\/shop\/products\/2_1400x_381ad200-5871-4796-adbf-43ecf2ab370c.jpg?v=1617896716"},"aspect_ratio":1.0,"height":1000,"media_type":"image","src":"\/\/www.rowgins.com\/cdn\/shop\/products\/2_1400x_381ad200-5871-4796-adbf-43ecf2ab370c.jpg?v=1617896716","width":1000}],"requires_selling_plan":false,"selling_plan_groups":[],"content":"\u003ch2 class=\"tw-data-text tw-text-large tw-ta\" data-placeholder=\"翻译\" id=\"tw-target-text\" dir=\"ltr\" style=\"text-align: center;\"\u003e\u003cstrong\u003e\u003cspan lang=\"en\" style=\"color: #ea9999;\" tabindex=\"0\"\u003eThe brilliant dough cutter\u003c\/span\u003e\u003c\/strong\u003e\u003c\/h2\u003e\n\u003cp style=\"text-align: center;\"\u003e\u003cstrong\u003e\u003cspan lang=\"en\" style=\"color: #9fc5e8;\" tabindex=\"0\"\u003eEasy for using to have specific shapes\u003c\/span\u003e\u003c\/strong\u003e\u003c\/p\u003e\n\u003cp style=\"text-align: center;\"\u003e \u003c\/p\u003e\n\u003cdiv class=\"tw-data-text tw-text-large tw-ta\" data-placeholder=\"翻译\" id=\"tw-target-text\" dir=\"ltr\"\u003e\u003cspan lang=\"en\" tabindex=\"0\"\u003eAutumn time is biscuit time! \u003cspan\u003e🍪 \u003c\/span\u003eBut you want to have your biscuits quickly on the cookie cutter and not stand in the kitchen forever? Pastry cutter tool - the brilliant dough cutter is perfect for you! \u003cspan\u003e😍\u003c\/span\u003e\u003c\/span\u003e\u003c\/div\u003e\n\u003cdiv class=\"tw-data-text tw-text-large tw-ta\" data-placeholder=\"翻译\" dir=\"ltr\"\u003e\u003cspan lang=\"en\" tabindex=\"0\"\u003e\u003cimg src=\"\/\/cdn.shopify.com\/s\/files\/1\/0262\/2658\/9775\/files\/Flinki02_large_46f1788d-ec40-4df5-8667-6be704704fab_large.gif?v=1571389269\" alt=\"\" width=\"210\" height=\"210\" style=\"display: block; margin-left: auto; margin-right: auto;\"\u003e\u003c\/span\u003e\u003c\/div\u003e\n\u003ch3 class=\"tw-data-text tw-text-large tw-ta\" data-placeholder=\"翻译\" dir=\"ltr\"\u003e\u003cspan lang=\"en\" style=\"color: #ff9900;\" tabindex=\"0\"\u003eHighlights:\u003c\/span\u003e\u003c\/h3\u003e\n\u003cdiv class=\"tw-data-text tw-text-large tw-ta\" data-placeholder=\"翻译\" dir=\"ltr\"\u003e\n\u003cul\u003e\n\u003cli\u003e\n\u003cp class=\"tw-data-text tw-text-large tw-ta\" data-placeholder=\"翻译\" id=\"tw-target-text\" dir=\"ltr\"\u003e\u003cspan lang=\"en\" tabindex=\"0\"\u003esave you time and work when baking ⏱\u003c\/span\u003e\u003c\/p\u003e\n\u003c\/li\u003e\n\u003c\/ul\u003e\n\u003cp class=\"tw-data-text tw-text-large tw-ta\" data-placeholder=\"翻译\" dir=\"ltr\" style=\"padding-left: 30px;\"\u003e\u003cspan lang=\"en\" tabindex=\"0\"\u003eBiscuit cutlets have never been so fast and easy! This tool\u003c\/span\u003e creates within \u003cspan lang=\"en\" tabindex=\"0\"\u003eseconds the cutting out of several biscuits at the same time and thus beats the usual cookie cutter by far.\u003c\/span\u003e\u003c\/p\u003e\n\u003cul\u003e\n\u003cli\u003e\n\u003cp\u003e\u003cspan\u003eEspecially in the Christmas season 🎅\u003c\/span\u003e\u003c\/p\u003e\n\u003c\/li\u003e\n\u003c\/ul\u003e\n\u003cp class=\"tw-data-text tw-text-large tw-ta\" data-placeholder=\"翻译\" dir=\"ltr\" style=\"padding-left: 30px;\"\u003e\u003cspan\u003eIt's a period that we often bake really large quantities \u003c\/span\u003e\u003cspan lang=\"en\" tabindex=\"0\"\u003eof biscuits - this tool \u003c\/span\u003e\u003cspan lang=\"en\" tabindex=\"0\"\u003ebrings an incredible labor savings and \u003c\/span\u003e\u003cspan lang=\"en\" tabindex=\"0\"\u003edelivers consistently beautiful results.\u003c\/span\u003e\u003c\/p\u003e\n\u003cul\u003e\n\u003cli\u003e\n\u003cp class=\"tw-data-text tw-text-large tw-ta\" data-placeholder=\"翻译\" id=\"tw-target-text\" dir=\"ltr\"\u003e\u003cspan lang=\"en\" tabindex=\"0\"\u003eperfectly consistent results\u003c\/span\u003e\u003c\/p\u003e\n\u003c\/li\u003e\n\u003cli\u003e\n\u003cp class=\"tw-data-text tw-text-large tw-ta\" data-placeholder=\"翻译\" id=\"tw-target-text\" dir=\"ltr\"\u003e\u003cspan lang=\"en\" tabindex=\"0\"\u003e\u003c\/span\u003eergonomic design (non-slip nubs)\u003c\/p\u003e\n\u003c\/li\u003e\n\u003cli\u003e\n\u003cp\u003ehigh quality (100% food safe)\u003c\/p\u003e\n\u003c\/li\u003e\n\u003c\/ul\u003e\n\u003ch3\u003e\u003cspan style=\"color: #ff9900;\"\u003eHow it works:\u003c\/span\u003e\u003c\/h3\u003e\n\u003col\u003e\n\u003cli\u003e\n\u003cp class=\"tw-data-text tw-text-large tw-ta\" data-placeholder=\"翻译\" id=\"tw-target-text\" dir=\"ltr\"\u003e\u003cspan lang=\"en\" tabindex=\"0\"\u003eroll out dough\u003c\/span\u003e\u003c\/p\u003e\n\u003c\/li\u003e\n\u003cli\u003e\n\u003cp class=\"tw-data-text tw-text-large tw-ta\" data-placeholder=\"翻译\" id=\"tw-target-text\" dir=\"ltr\"\u003e\u003cspan lang=\"en\" tabindex=\"0\"\u003eWith a hand movement, cut out several biscuits at the same time by rolling over the dough\u003c\/span\u003e\u003c\/p\u003e\n\u003c\/li\u003e\n\u003cli\u003e\u003cspan lang=\"en\" tabindex=\"0\"\u003e\u003cspan\u003eRemove remaining dough without sticking\u003c\/span\u003e\u003c\/span\u003e\u003c\/li\u003e\n\u003c\/ol\u003e\n\u003cimg src=\"https:\/\/cdn1.pamura.com\/files\/Flinki03_large.gif?v=1569919956\" width=\"241\" height=\"241\" style=\"display: block; margin-left: auto; margin-right: auto;\"\u003e\n\u003c\/div\u003e\n\u003ch3 class=\"tw-data-text tw-text-large tw-ta\" data-placeholder=\"翻译\" dir=\"ltr\"\u003e\u003c\/h3\u003e\n\u003ch3 class=\"tw-data-text tw-text-large tw-ta\" data-placeholder=\"翻译\" dir=\"ltr\"\u003e\u003cstrong\u003e\u003cspan style=\"color: #ff9900;\"\u003e\u003c\/span\u003e\u003c\/strong\u003e\u003c\/h3\u003e\n\u003cstrong\u003e\u003cspan style=\"color: #ff9900;\"\u003e\u003c\/span\u003e\u003c\/strong\u003e\u003cstrong\u003e\u003cspan style=\"color: #ff9900;\"\u003e\u003c\/span\u003e\u003c\/strong\u003e\n\u003ch3\u003e\u003cspan style=\"color: #ff9900;\"\u003eSpecifications:\u003c\/span\u003e\u003c\/h3\u003e\n\u003cul\u003e\n\u003cli\u003e\n\u003cp\u003e\u003cstrong\u003e\u003cspan style=\"color: #76a5af;\"\u003eSize\u003c\/span\u003e\u003c\/strong\u003e: circle 17 x 8,5 x 4 cm, big square 16 x 7,5 cm, small square 13,5 x 5,5 cm\u003c\/p\u003e\n\u003c\/li\u003e\n\u003cli\u003e\n\u003cp\u003e\u003cspan style=\"color: #000000;\"\u003e\u003cspan style=\"color: #76a5af;\"\u003e\u003cstrong\u003e\u003cspan style=\"vertical-align: inherit;\"\u003e\u003cspan style=\"vertical-align: inherit;\"\u003e\u003cspan style=\"vertical-align: inherit;\"\u003e\u003cspan style=\"vertical-align: inherit;\"\u003e\u003cspan style=\"vertical-align: inherit;\"\u003e\u003cspan style=\"vertical-align: inherit;\"\u003e\u003cspan style=\"vertical-align: inherit;\"\u003e\u003cspan style=\"vertical-align: inherit;\"\u003eColor\u003c\/span\u003e\u003c\/span\u003e\u003c\/span\u003e\u003c\/span\u003e\u003c\/span\u003e\u003c\/span\u003e\u003c\/span\u003e\u003c\/span\u003e\u003c\/strong\u003e\u003c\/span\u003e\u003cspan style=\"vertical-align: inherit;\"\u003e\u003cspan style=\"vertical-align: inherit;\"\u003e\u003cspan style=\"vertical-align: inherit;\"\u003e\u003cspan style=\"vertical-align: inherit;\"\u003e\u003cspan style=\"vertical-align: inherit;\"\u003e\u003cspan style=\"vertical-align: inherit;\"\u003e\u003cspan style=\"vertical-align: inherit;\"\u003e\u003cspan style=\"vertical-align: inherit;\"\u003e:\u003c\/span\u003e\u003c\/span\u003e\u003c\/span\u003e\u003c\/span\u003e\u003c\/span\u003e\u003c\/span\u003e\u003c\/span\u003e\u003c\/span\u003e\u003c\/span\u003e\u003cspan style=\"vertical-align: inherit; color: #000000;\"\u003e\u003cspan style=\"vertical-align: inherit;\"\u003e\u003cspan style=\"vertical-align: inherit;\"\u003e\u003cspan style=\"vertical-align: inherit;\"\u003e\u003cspan style=\"vertical-align: inherit;\"\u003e\u003cspan style=\"vertical-align: inherit;\"\u003e\u003cspan style=\"vertical-align: inherit;\"\u003e\u003cspan style=\"vertical-align: inherit;\"\u003ewhite\u003c\/span\u003e\u003c\/span\u003e\u003c\/span\u003e\u003c\/span\u003e\u003c\/span\u003e\u003c\/span\u003e\u003c\/span\u003e\u003c\/span\u003e\u003c\/p\u003e\n\u003c\/li\u003e\n\u003c\/ul\u003e\n\u003ch3\u003e\u003cspan style=\"color: #ff9900;\"\u003e\u003cstrong\u003e\u003cspan style=\"vertical-align: inherit;\"\u003e\u003cspan style=\"vertical-align: inherit;\"\u003e\u003cspan style=\"vertical-align: inherit;\"\u003e\u003cspan style=\"vertical-align: inherit;\"\u003e\u003cspan style=\"vertical-align: inherit;\"\u003e\u003cspan style=\"vertical-align: inherit;\"\u003e\u003cspan style=\"vertical-align: inherit;\"\u003e\u003cspan style=\"vertical-align: inherit;\"\u003e\u003cspan\u003ePackage Includes:\u003c\/span\u003e\u003c\/span\u003e\u003c\/span\u003e\u003c\/span\u003e\u003c\/span\u003e\u003c\/span\u003e\u003c\/span\u003e\u003c\/span\u003e\u003c\/span\u003e\u003c\/strong\u003e\u003c\/span\u003e\u003c\/h3\u003e\n\u003cul\u003e\n\u003cli\u003e\n\u003cp\u003e\u003cspan style=\"vertical-align: inherit;\"\u003e\u003cspan style=\"vertical-align: inherit;\"\u003e\u003cspan style=\"vertical-align: inherit;\"\u003e\u003cspan style=\"vertical-align: inherit;\"\u003e\u003cspan style=\"vertical-align: inherit;\"\u003e\u003cspan style=\"vertical-align: inherit;\"\u003e\u003cspan style=\"vertical-align: inherit;\"\u003e\u003cspan style=\"vertical-align: inherit;\"\u003e3 * Pastry cutter tools (1 round shape, 1 big square shape,1 small square shape)\u003c\/span\u003e\u003c\/span\u003e\u003c\/span\u003e\u003c\/span\u003e\u003c\/span\u003e\u003c\/span\u003e\u003c\/span\u003e\u003c\/span\u003e\u003c\/p\u003e\n\u003c\/li\u003e\n\u003c\/ul\u003e\n\u003cp\u003e \u003c\/p\u003e\n\u003cdiv id=\"sbi_camera_button\" style=\"width: 29px !important; height: 27px !important; top: 351.5px !important; left: 405px !important; display: none !important;\"\u003e\u003c\/div\u003e"}
Pastry cutter tool ( 3 patterns )
Adding product to your cart
The brilliant dough cutter
Easy for using to have specific shapes
Autumn time is biscuit time!

🍪 

But you want to have your biscuits quickly on the cookie cutter and not stand in the kitchen forever? Pastry cutter tool - the brilliant dough cutter is perfect for you! 

😍
Highlights:
save you time and work when baking ⏱
Biscuit cutlets have never been so fast and easy! This tool creates within seconds the cutting out of several biscuits at the same time and thus beats the usual cookie cutter by far.
Especially in the Christmas season 🎅
It's a period that we often bake really large quantities of biscuits - this tool brings an incredible labor savings and delivers consistently beautiful results.
perfectly consistent results

ergonomic design (non-slip nubs)

high quality (100% food safe)
How it works:
roll out dough

With a hand movement, cut out several biscuits at the same time by rolling over the dough

Remove remaining dough without sticking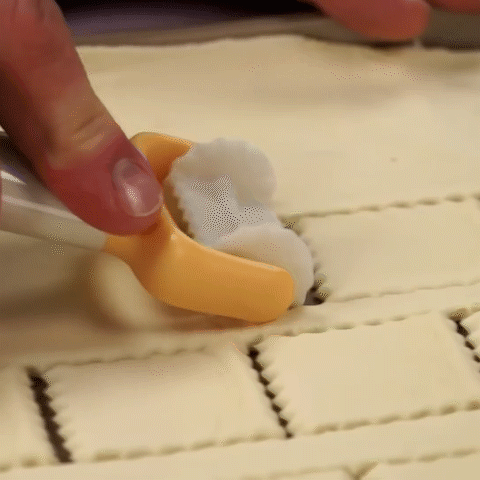 Specifications:
Size: circle 17 x 8,5 x 4 cm, big square 16 x 7,5 cm, small square 13,5 x 5,5 cm

Color:white
Package Includes:
3 * Pastry cutter tools (1 round shape, 1 big square shape,1 small square shape)