Having a seat belt on during pregnancy is extremely uncomfortable for pregnant women. The pressure against your belly can be unhealthy to the baby, not to mention the discomfort it causes you. No matter how uncomfortable you are, it is still not a good idea to remove the seat belt. After all, you've a life inside you that's

 

waiting to explore the world

.
What happens during an emergency brake? The extreme force exerted onto your belly from the belt will be extremely harmful to the unborn baby inside you. The seat belt in its original design actually does more harm than good.
With pregnant women in mind, our team has came up with a revolutionary product. Made by mothers, for mothers-to-be.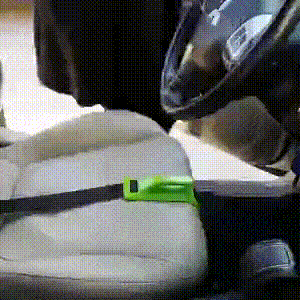 It can be easily attached to a car seat to keep both mothers & baby comfortable, without any compromise in road safety. It adapts to securely fit seats and mothers of 

all shapes and sizes

. 
Not just pregnant woman, it is suitable for people who've underwent 

abdominal surgery

. It prevents the belt from putting pressure against painful wounds and cuts, allowing your abdominal wound to heal just as it should.
CHARACTERISTICS:
Safe & Comfortable

 - It makes the belt sit across the thighs, instead of over the belly which causes much discomfort for growing bellies. It allows pregnant drivers to focus on driving, as well as pregnant passengers to ride more comfortably & safely.
Easy to Install

 - doesn't take extra time to unstrap and re-strap and is practical for daily use.
Free Sized

 - The belt can be fastened tightly in car seat, it's not movable, and no matter your size, it works!
Perfect for Recovery

 - Anyone who just gone through abdominal surgery, stomach surgery or caesarean section will be able to heal properly without a belt damaging the wound..
If you switch seats/cars a lot, (for eg. from driver to passenger, or own 2 cars or more) we recommend buying 2, so you don't have to keep moving the belt.
HOW DOES IT WORK?
We have designed the belt such that it sits across the thighs, instead of over the belly which causes unnecessary pressure and discomfort for growing bellies. Our belt allows pregnant driver to focus on driving so much more comfortable and safer. Your car seat belt should still work as it should be in this case.
BENEFITS
It prevents a vehicle's belt from riding up over your baby bump to help protect mothers-to-be and their unborn baby during car travel.
TIP:
Our belt is most suitable for mothers 3 months into their pregnancy, all the way until the time the baby is born.
PACKAGE INCLUDES:
1 Car seat belt for pregnancy safe