💐🌺GET CREATIVE WITH THIS AMAZING DECORATING SET!

💐🌺Ideal for making beautifully designed cakes, cupcakes, cookies or wherever else your imagination takes you. These Decorating Tools Set allow you to decorate any baked goods that will have your guest in awe! 
💐🌺The Decorating Tools Set is made from durable food-grade material which is non-toxic, tasteless and safe. They are also durable, non-sticky and easy to clean. 
💐🌺Unleash your inner creativity and stun your family and friends. You will be amazed at how easy these handy tools are to use. With a little practice, you will be producing professional-looking cakes and cookies from your own kitchen.
💐🌺No matter your skill level, order the Decorating Tools Set today to take your creativity to the next level.
💐🌺This set is perfect for you too if you enjoy soap making... 
💐🌺..or clay modeling!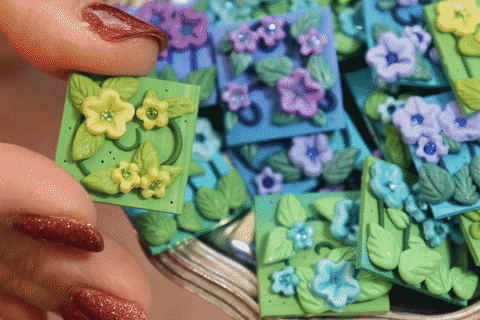 💐🌺PACKAGE INCLUDES:
3 x Starfruit Cutter
3 x Carnation Cutter
4 x Flower Cutters
3 x Star Plunger
4 x Daisy Plunger
3 x Butterfly Plunger
3 x Sunflower plunger
3 x Heart Plunger
3 x Leaf Plunger
4 x Plum Flower Plunger
💐🌺HOW TO USE PLUNGER CUTTER?
Plunger cutter work in a similar way to regular cutters, except that they have a nifty little plunger that can emboss the fondant with a design and push out your fondant shape, so you do not need to use your fingers to dig out your fondant from the cutter. It is a good idea though to use a little bit of powdered sugar to help the fondant release from the plunger.
Press down firmly first without pushing the plunger. Move it gently back and forth to remove the frayed edge.
While the plunger is still on the mat, gently press down on the plunger to add the detail from the plunger. If you do not want the pattern or details, simply lift up the cutter and press the plunger to release the fondant.
💐🌺Now You Have A Beautiful Cut Out That Can Enhance Any Cake!